Striving to keep up with the frenzied rise of different cryptos might feel a bit like playing a game of whack-a-mole, driving both analysts and investors crazy.
One such opportunity came at the end of December 2021 with Green Chart Finance which is up 805% in the last 24 hours.

Meme coin sudden rallies can create lucrative returns for investors in the blink of an eye, but the extreme volatility that accompanies them can quickly catch traders offside, leaving them holding the bag as value plunges back to earth.
Green Chart crypto had its presale on December 21st and is now standing at with a very strong market cap of $2,837,174.
The main advantage of Green Chart crypto
In the finance world, a green chart is a metaphor for economic prosperity. So far it can be said that the Green Chart token is "showing a green chart" as it has a strong trading volume and a "chart going to the moon".
This strong positive growth can be attributed to The Green Chart token design which is aimed to remove any extra sell pressure and add extra buying pressure.
Green Chart token is one of the few BSC projects with staking, with rewards for only the staked tokens, which allows for massive APY % rewards while tokens cannot be sold, further increasing the value.
Green Chart short-term and long-term vision
Indeed, blockchain technology is still in early development and there is space for those that want to create a globally recognizable brand.
The team behind Green Chart promises a long-term vision of a crypto that is accessible and easy to buy globally. Arguably, this is the most important underlying aspect of any crypto in development – how easy it is to buy and sell for anyone.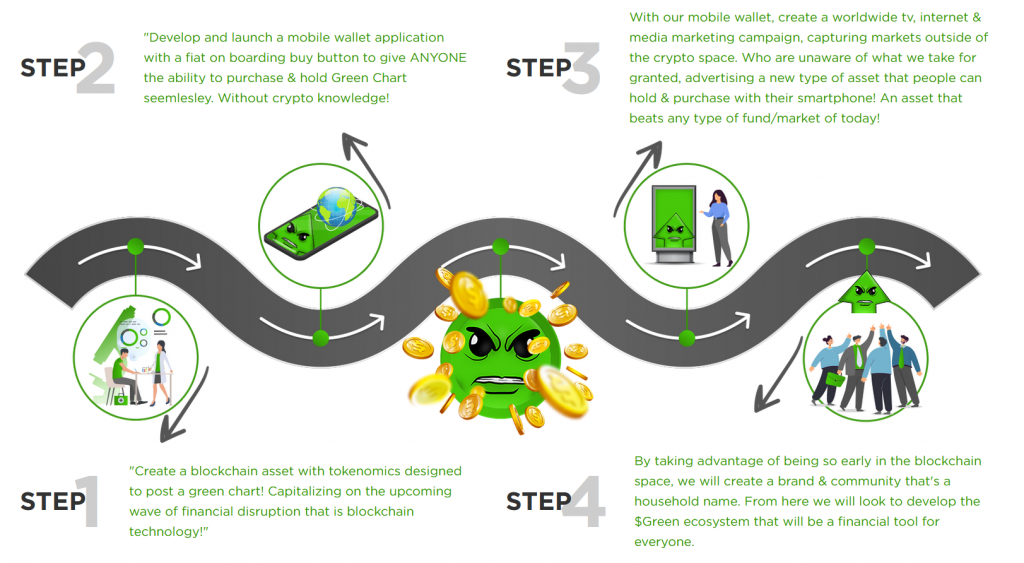 The short-term development goal for Green Chart is to have their mobile wallet app that will provide accessibility to average internet users to buy their token (for fiat) with a click of a button. This will be followed by a marketing campaign aimed at a global audience and exposure.
Further development will sprout the ($Green) ecosystem (partnerships and bridges) that will provide a financial tool for everyone.
Green Chart staking for rewards
Green Chart will be rewarding only those who have staked their coins – plain and simple. General token holders will not be receiving rewards if they are not staking, hence this will lead to substantial APY% rewards for those that do choose to stake their coins.
This is a win-win situation as staked coins will not be sold, and when fewer holders are selling then the value of coins will be increasing, and in turn, staking rewards will be higher.
New crypto spurs questions: Is this a genuine project or a scam?
The most common question an average investor would ask himself – is this new crypto a scam or a tool for a rug-pull in disguise?
It is hard to answer this question, though it is important to note that the people behind the project are very transparent, with genuine identity, token liquidity is locked and dev wallets have no way of "stealing" or dumping the project.
The dev team has received only 2.5% of the token supply, locked, and can be viewed publicly, and that is very good news.
Additionally, another 2.5% of the token supply is reserved for "marketing" meaning it will be allocated to project partners, giveaways, airdrops … etc. to create more exposure, promote and encourage.
Conclusion
To sum it up, while nothing revolutionary in today's crypto world, overall Green Chart does look promising, and looking at its market cap it already seems to have attracted the attention of a critical number of investors.
Should you be interested in investing in Green Chart coins? Definitely, but consider this as a regular crypto investment and never give more than you are ready to lose, just like with any other crypto/investment.
Green Chart can be found on Social Media (Twitter, Facebook, Reddit …) with their team publicly disclosed with the Green Chart website.